WWF-India, Ministry of Environment, Forest and Climate Change, (MoEF&CC) organises various awareness activities on the occasion of Wildlife Week 2nd-8th October under Mission LiFE.  The aim was to emphasise the importance of wildlife conservation and climate change in maintaining nature's equilibrium among students of multiple schools of Delhi. The theme for this year wildlife week celebrations is "Partnerships for Wildlife Conservation".
The mandate of Programme Centre at WWF-India, MoEF&CC is "Wildlife Conservation (including species and habitat) using geospatial techniques". Programme Centre (PC) EIACP (Environmental Information, Awareness, Capacity Building and Livelihood Programme), Resource Partner (RP) at WWF-India was set up for collection, collation, storage, retrieval and dissemination of information in order to support and promote research, development and innovation among decision-makers, researchers, academicians, policy planners, research scientists & and other stakeholders.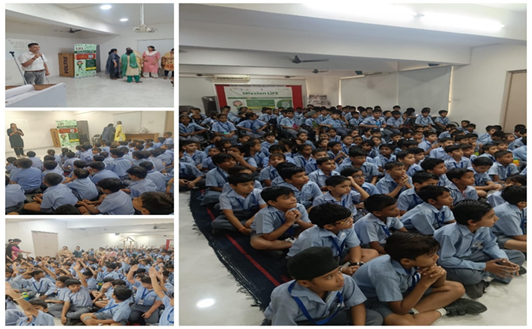 During the week, students of various schools of Delhi were briefed about the Wildlife Week, its importance and about the theme i.e., "Partnerships for Wildlife Conservation". WWF-India team also conveyed the message of Mission LiFE through a 12-minute documentary video, students and teachers also took the Pledge. The event was very impactful as after that the school children showed much interest to know more about wildlife conservation, and about combating climate change by adopting lifestyle changes in an eco-friendly manner. The target audience of approximately 864 participated in these awareness activities.