Ministry of FisherUnion Minister for Fisheries, Animal Husbandry and Dairying Shri Parshottam Rupala inaugurates 'International Conclave on Mainstreaming Climate Change into International Fisheries Governance and Strengthening of Fisheries Management Measures in Indo-Pacific Region' today at Mahabalipuram
Conclave aims to develop guidelines for climate resilient fisheries management and formulate strategies for the integration of climate change into international fisheries governance Shri Rupala urges for inclusive space for all stakeholders and pitches for collaborative global action to address climate crisis in fisheries and aquaculture sector
Union Minister for Fisheries, Animal Husbandry and Dairying (FAH&D) Shri Parshottam Rupala inaugurated the 'International Conclave on Mainstreaming Climate Change into International Fisheries Governance and Strengthening of Fisheries Management Measures in the Indo-Pacific Region' today. The conclave is being organised by the Food and Agriculture Organisation of the United Nations (FAO) in collaboration with the Department of Fisheries, Ministry of Fisheries, Animal Husbandry and Dairying, Government of India, and the Bay of Bengal Programme Inter-Governmental Organisation (BOBP-IGO), during 17th-19th October, 2023 at Mahabalipuram, Chennai with an aim to develop guidelines for climate resilient fisheries management and formulate strategies for the integration of climate change into international fisheries governance. Department of Fisheries, Secretary, Dr. Abhilaksh Likhi and Joint Secretary, Department of Fisheries, Ms. Neetu Prasad were also present on the occasion of inauguration.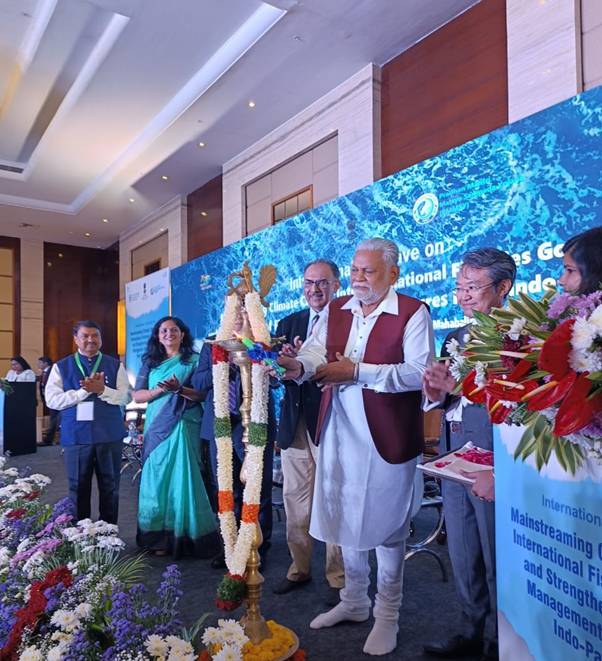 While declaring the inauguration of the program Union Minister Shri Parshottam Rupala said that this program should focus on the key elements on climate change, its impact on fisheries, preparedness of Governments and regional fisheries bodies towards the impact of climate change on fisheries. Shri Rupala urged for inclusive space for all stakeholders based on common responsibilities and common interests and pitches for collaborative global action to address climate crisis in the fisheries and aquaculture sector. He also urged for strategic interconnection for the common opportunities and common challenges shared by the Indian Ocean and the Pacific Ocean and called for the responsibility to face the challenges, threats and resolve the problems together so as to make this region a suitable habitat for all life forms.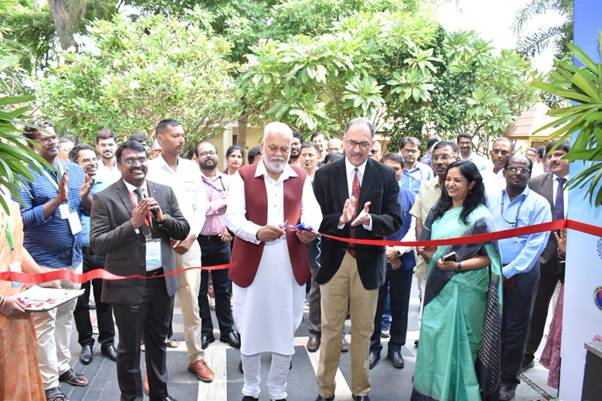 While thanking FAO for jointly organising this important Workshop focusing on climate change and its impact on fisheries Shri Rupala said that the outcomes of the workshop will be a great help to the fisher communities of the Indo pacific region to tackle adversaries and able to minimize the impact, if any. While emphasizing about the efforts of Government of India in the last 9 years through various schemes and programs for fisheries sector, Union Minister Shri Rupala informed about the transformational changes/reforms through multi-pronged strategies and focused interventions in the areas of fish production and productivity, technology infusion, strengthening and modernization of infrastructure, boosting domestic consumption and exports, growth of entrepreneurship and employment etc. keeping welfare of fishers and fish farmers at the core.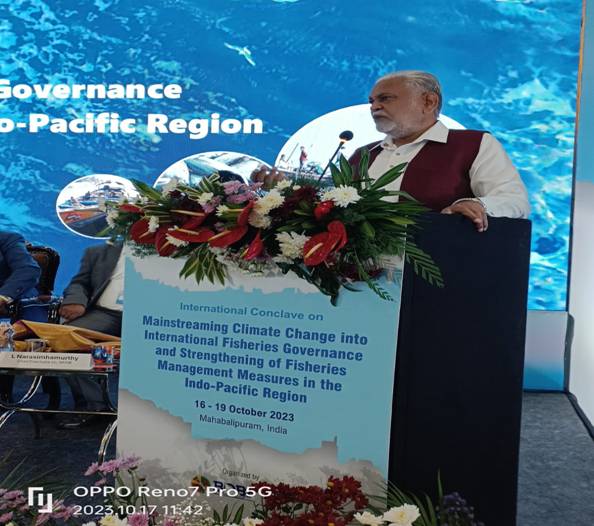 Referring to the initiatives taken to promote the sector amid challenges, the Shri Rupala said that the Union Government, in last 9 years, has ushered in transformational changes and reforms in the areas of fish production and productivity, technology infusion, modernisation of infrastructure, growth of entrepreneurship and employment etc. He also mentioned that the Union Government is setting up a Multipurpose Seaweed Park (integrated aquapark) in worth Rs.1.27 billion in Tamil Nadu. "Since 2015, focus attention have been given to modernisation and creation of 107 projects of Fishing Harbours & Fish Landing Centres across the coastal states", the Union Minister added.
Shri Parshottam Rupala also said that the fisheries sector contributes a good stake in India's economy and provides livelihood for over 2.8 crore fishers and fish farmers at primary level. "Seafood exports have more than doubled in the last nine years, with record exports of ₹63,969 crore (US$8.09 billion) in 2022-23. Shrimp exports have also more than doubled in the last nine years, reaching ₹43,135 crore (US$5.48 billion) in 2022-23", the Minister said. He also said "Under various schemes, an estimated 61.9 lakh employment and livelihood opportunities have been generated in the last nine years. Approximately 6 lakh fisher families are provided with livelihood and nutritional support annually during the fishing ban and lean period. On an average of 38 lakh fishers per year are insured under the Group Accident Insurance Scheme "GAIS". Union Minister Shri Rupala invited all the participants to attend the first Global Fisheries Conference to be held during 21-22 November, 2023 at Ahmadabad, Gujarat on the occasion of World Fisheries Day.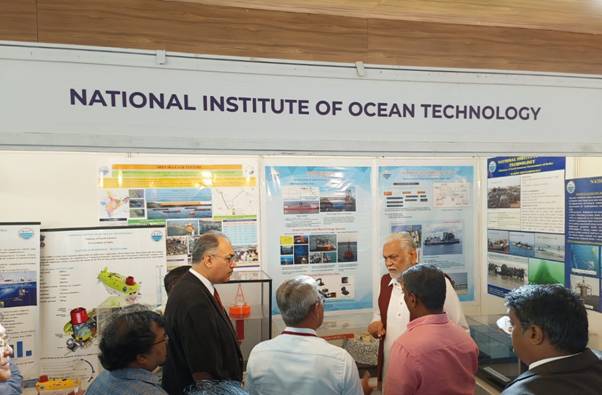 Dr Abhilaksh Likhi informed about the few initiatives taken under schemes of Govt. of India especially under Pradhan Mantri Matsya Sampada Yojana (PMMSY) for adapting with and mitigating, the effect of climate change in the fisheries sector. Few of the initiatives mentioned were implementation of National Surveillance Programme for Aquatic Animal Diseases (NSPAAD) which helps in assessment of fish diseases due to climate change, promotion of use of renewable source of energy for operation of fishing vessels and onboard processing, installation of biodigester toilets on mechanized fishing vessels to reduce the marine environment pollution.
A parallel event on 'Brainstorming Session on India's Preparedness for Adapting to Climate Change in Marine Fisheries', is also being organised by Department of Fisheries, Government of India. Session is being attended by various national and international Scientific personnel and will mainly focus on the Status of Indian Fisheries with respect to Climate Change and Adaptation Strategies; and India's Preparedness for Adapting to Climate Change in Marine Fisheries.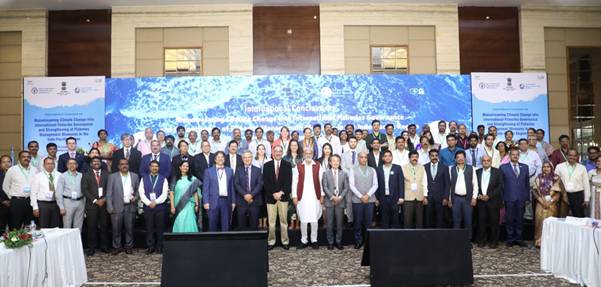 FAO representative in India appreciated FAHD for hosting the important international workshop and called for the member countries to keep Sustainable Development Goals (SDGs) at the core while working for the livelihood, nutrition & welfare in fisheries sector because the climate change is an issue here to stay. FAO representative also suggested for gender inclusiveness in the sector to achieve the nutritional security & Blue transformation.
The dignitaries who attended the event are Food and Agriculture Organization (FAO) Representative in India, Dr. Takayuki Hagiwara, Senior Fisheries Officer, FAO, Dr. Piero Mannini and Chair of the Regional Fisheries Bodies Secretariat Network, Dr. Darius Campbell and Director, BOBP-IGO, Dr. P. Krishnan from international front and Deputy Director General (Fisheries), ICAR, Dr. J.K. Jena, Chief Executive, National Fisheries Development Board, Dr. L. Narasimha Murthy and other Senior Officers of Department of Fisheries, Government of India, State Governments, Universities, Research Institutes etc. 
****