Dr Mansukh Mandaviya inaugurates new facilities at NIMHANS and launches new logo of Tele-MANAS

"Mental Health is a universal human right"

Use of digital technology in mental health is a force multiplier. Tele-MANAS has counseled more than 3,50,000 people till date and currently provides counseling to 2000 people through 44 Tele Manas Cells. More than 1000 calls are being received on this helpline every day: Dr. Mansukh Mandaviya

"Ayushman Bharat Health and Wellness Centres have facilitated the integration of mental health services with primary health services as priority services for mental health, neurological disorders and substance use disorders"
Posted On: 10 OCT 2023 4:00PM by PIB Delhi
"Mental health is a universal human right." This was stated by Union Minister of Health and Family Welfare Dr. Mansukh Mandaviya at the National Mental Health Conclave organized to mark World Mental Health Day, here today. He also virtually inaugurated new facilities at NIMHANS and launched the logo of Tele-MANAS. He was joined by Dr. V.K. Paul, Member (Member), Niti Aayog.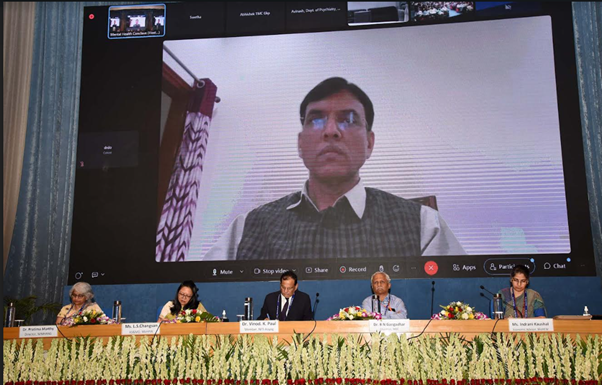 Addressing the gathering, Dr. Mandaviya lauded the resolve to work towards ensuring that the benefits of mental health care are available to all citizens of the country ensuring reach to the remotest areas. Praising the visionary leadership of Prime Minister Shri Narendra Modi, the Union Health Minister stated "The National Mental Health Survey was published in the year 2015-16 was a pioneering initiative that brought to light that 10 percent of the population is affected by mental health issues which reflects the huge burden it has on the affected people, society and economy." The Union Health Minister emphasized that "use of technology in mental health care is a force multiplier, citing the example of National Tele-Mental Health Program (Tele-MANAS)." He further stated "The Tele Manas Seva, launched last year on the occasion of World Mental Health Day, has counseled more than 3,50,000 people till date and currently provides counseling to 2000 people through 44 Tele Manas Cells. More than 1000 calls are being received on this helpline every day."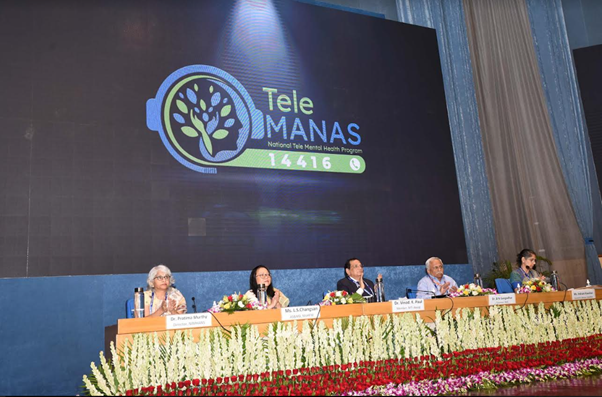 The Union Health Minister launched the logo of Tele-MANAS and inaugurated the new facilities in National Institute of Mental Health and Neuro Sciences, Bangalore namely Platinum Jubilee Auditorium and Academic facility, New Administrative Office complex at NIMHANS, Centre for Brain and Mind.
The Union Health Minister stated that "Ayushman Bharat Health and Wellness Centres have facilitated the integration of mental health services with primary health services as priority services for mental health, neurological disorders and substance use disorders. District level activities are organized by a dedicated district mental health intervention team stationed in the district hospital. Additionally, OPD, counselling, care and medical support for mental health issues are provided at Community Health Center and Primary Health Center level. They are being provided through 1.6 lakh AB-HWCs situated across the country. Mental health also features under the Prime Minister-Jan Arogya Yojana."
Dr. Mandaviya further added "To improve coverage and access to mental health care, district level activities have been supported under the National Mental Health Program in 743 districts across all 36 States/UTs." He highlighted that at the tertiary level, there are a total of 47 government mental health hospitals in the country, including three central mental health institutions at Bengaluru, Ranchi and Tejaspur. Many other central and state government hospitals have psychiatry departments. In addition, psychiatry departments have been established in the newly established All India Institute of Medical Sciences (AIIMS).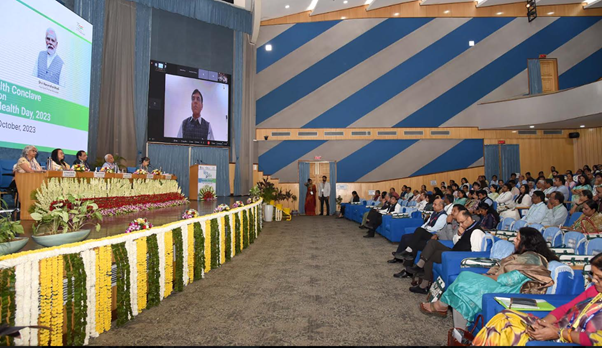 Dr. Mandaviya commemorated the states on their performance, and states/UTs were awarded certificate of appreciation with memento for achieving the highest number of calls in the National Tele Mental Health Programme. Ranking from first to third, in the larger states category Tamil Nadu, Maharashtra and Uttar Pradesh were awarded. Whereas, Telangana, Jharkhand, and Kerala were awarded for their performance in the smaller states category. In the North East category states of Assam, Mizoram and Manipur received awards, and Jammu and Kashmir, Delhi and Dadra and Nagar Haveli and Daman and Diu were awarded in the Union Territories category.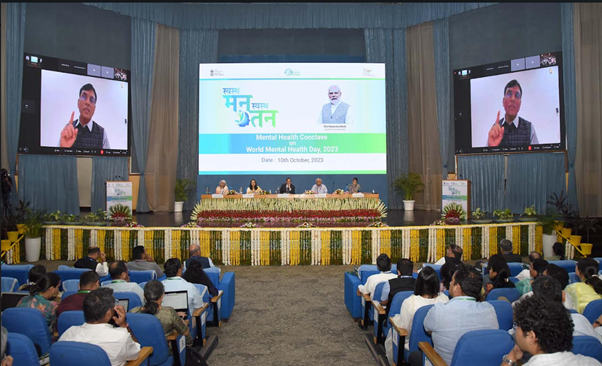 Highlighting the government's commitment and resolve to raise awareness and ensure delivery of healthcare services to the last mile, Dr. Mandaviya said "Apart from Tele-MANAS, the Government has taken several steps to address mental health issues of children and women under the National Child Health Programme, National Adolescent Health Program and RCH programmes. As life expectancy improves, attention is also being paid to the mental health of the elderly." He also urged all to leverage the use of digital technology so that health care reaches everyone, citing drug addiction and workplace stress as significant contributors to mental health issues.
Underscoring the importance and impact of mental health, Dr. Paul stated "the invisibility of mental health in some ways compromises our ability in reaching out to individuals, families and so on but at the same time we must not forget that nation's productivity, well-being, societal balance is also intricately linked to the feeling well mentally and spiritually." He emphasized "a whole-of-society approach, i.e. Jan Aandolan approach would add immense leverage in aiding and providing care to those afflicted."
Shri Rajesh Aggarwal, Secretary, Department of Empowerment of Persons with Disability, Shri Sanjay Kumar, Secretary, Department of School Education and Literacy, Dr. Bharat Lal, Secretary General, National Human Rights Commission of India, Ms. L.S. Changsen, AS & MD (NHM), Ministry of Health and Family Welfare, Ms. Indrani Kaushal, Economic Advisor, Ministry of Health and Family Welfare, Dr B.N. Gangadhar, Chairman, National Medical Council, Dr. Pratima Murthy, Director, National Institute of Mental Health and Neuro Sciences, Lt Gen Daljit Singh, AVSM, VSM, PHS, DGAFMS, with various dignitaries were present at the event. Dr. Roderico H Ofrin, World Health Organization, Representative to India, Dr. Soumya Swaminathan, Chairperson, M S Swaminathan Research Foundation (MSSRF) and Former Chief Scientist, World Health Organization attended the event virtually.