Union Minister Dr Jitendra Singh today said that India and Australia are deeply engaged in every area of collaboration in Science & Technology.
Lauding Australia for providing Earth Station tracking facility for Gaganyaan, India's first human space mission scheduled for launch in 2025, Dr Jitendra Singh said there is scope for wider collaboration in sectors including Space Research and Biotechnology. He offered Industry tie-ups in StartUps including Agritech, Aroma Mission and Lavender cultivation.
This was stated by the Union Minister of State (Independent Charge) Science & Technology; MoS PMO, Personnel, Public Grievances, Pensions, Atomic Energy and Space, when a high-level Australian delegation led by its High Commissioner to India, Philip Green called on him in New Delhi today.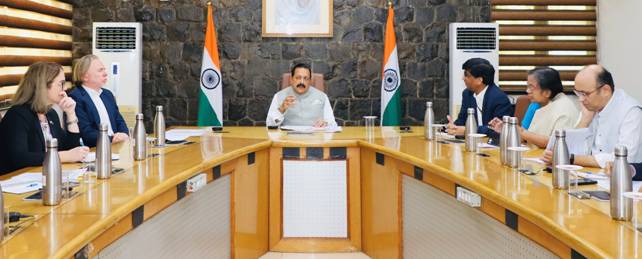 Dr Jitendra Singh said, India has emerged as a pioneer in addressing issues of Climate Change, as envisioned by the Prime Minister Shri Narendra Modi during the G20 New Delhi Summit. At India's initiative, the Global Biofuels Alliance was set up on the sidelines of the G20 Summit and India is ready to share its expertise with Australia in Clean Energy and Semiconductors, he said.
Dr Jitendra Singh said, in the wake of the Covid pandemic, India ramped up its vaccine production and now our Department of Biotechnology has taken leads in Preventive Healthcare. The National Research Foundation (NRF) will work as a thinktank, pooling resources of Industry, Academia, non-scientific Academia and CSIR, he said, adding, it will also decide on foreign collaboration.
The Australian High Commissioner urged Dr Jitendra Singh for an early resolution of Round 15 of proposals under the Australia-India Strategic Research Fund (AISRF). Over 360 projects, fellowships and workshops have been supported till now in areas of importance to Australia and India. Dr Jitendra Singh assured that India will expedite meetings to resolve pending issues at the earliest.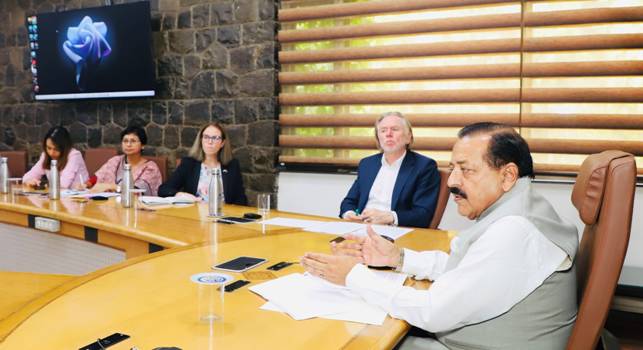 The two sides identified Green Energy (including Hydrogen, Solar, etc. and Energy Storage Solutions), Environment and Clean Technologies (Carbon capture, conversion, sequestration and utilisation), Strategic and critical minerals, Next-Gen Sustainable Mining and advanced Manufacturing, Sustainable Infrastructure, Marine Technologies and Affordable Healthcare as Priority areas for cooperation.
The delegations also agreed to enhance researcher/student exchange programmes for connecting the youth, setting up of Joint technology incubation centres for initial/growth phase of tech development and enhancing involvement of Industry in R&D – 2+2 (Research Institutions + Industry) mode projects for co-development and upscaling of technologies.
Dr Jitendra Singh said, from just 4 Startups in the Space sector a few years ago, India now has over 150 Space StartUps, some of the pioneering ones now worth hundreds of crore rupees. He proposed that IN-SPACe work with Australia Space Agency (ASA) and facilitate joint projects with the Space Startups.
ASA is extending full support including conducting of site survey (on behalf of ISRO) at Cocos Island in June 2021. In January 2022, ISRO and ASA signed the Implementing Arrangement to formalise this cooperation. ISRO officials visited Cocos Island in August 2023 and carried out a frequency survey at the proposed site.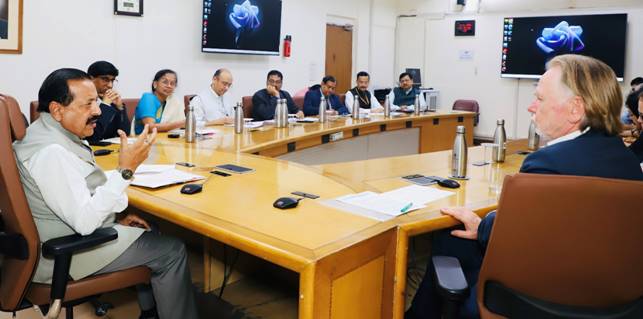 The Indian delegation included Secretary, DST, Prof. Abhay Karandikar, Secretary, CSIR, Dr (Mrs) N. Kalaiselvi, Secretary, DBT, Dr Rajesh S. Gokhale as well as senior officers of ISRO and Department of Atomic Energy.