Ron DeSantis' delicate 2024 dance with Donald Trump
Hits: 2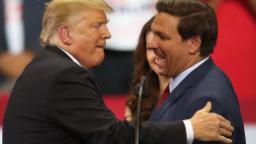 "Me signing this bill says: Florida, your vote counts, your vote is going to be cast with integrity and transparency and this is a great place for democracy," DeSantis said in a signing ceremony that was broadcast live on "Fox & Friends." (Yes, that really happened.)
Among other things, the bill made it more difficult to vote by mail, allowed more partisan observation of the vote-counting process and limited the number of ballot dropboxes in the state.
That was, apparently, not enough. Because DeSantis this week has said
he wants to go further
— cracking down on so-called "ballot harvesting" and pushing election officials to purge their voter rolls more often. "We're going to do another package of election integrity reforms that is going to make Florida way No. 1 by a long shot anywhere in the country," DeSantis promised.
Presidential politics, mostly.
See, DeSantis, despite pushing through the election bill earlier this year, has recently come under pressure from Trumpists within the GOP to call for an audit of the 2020 presidential election in the state.
If you think it's a coincidence that DeSantis announced his intent to push for even more voting strictures on the same week that pressure began to build on him — from the likes of Stone — for a recounting of the 2020 election, well, then, welcome to how politics works. DeSantis doesn't want to audit the vote (again) but he also knows that his political future depends entirely on staying in the good graces of Trump and those who support the former president.
And so, he throws them a bone on so-called "election security" even while not giving them everything they want.
Trump himself seems to be aware of what DeSantis is doing. Asked last month about the possibility of facing DeSantis in 2024, Trump was hugely dismissive.