5 things to know for November 24: Charlottesville, Capitol riot, Wisconsin, opioids, coronavirus
Hits: 1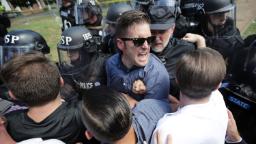 Here's what you need to know to Get Up to Speed and On with Your Day.
(You can also get "5 Things You Need to Know Today" delivered to your inbox daily.
Sign up here
.)
1. Charlottesville
A jury awarded
more than $26 million in damages
yesterday after finding the White nationalists who organized and participated in a violent 2017 rally in Charlottesville, Virginia, liable on a state conspiracy claim and other claims. But the jury in the federal civil trial said it could not reach a verdict on two federal conspiracy claims.
The violence during the Unite the Right rally
turned the Virginia city into another battleground in America's culture wars and highlighted growing polarization. It was also an event that empowered White supremacists to demonstrate their beliefs in public rather than just online.
2. Capitol riot
3. Wisconsin
4. Opioids
5. Coronavirus
BREAKFAST BROWSE
Nominations for the 2022 Grammy Awards revealed
General Mills is raising prices on hundreds of items next year
The surprising reason why Ocean Spray cranberry sauce labels are upside-down
'Hellbound' is the next 'Squid Game'
Before this year's Macy's Thanksgiving Parade, learn about its most infamous balloon mishaps
TODAY'S NUMBER
$1.25
TODAY'S QUOTE
"It will take time, but before long, you should see the price of gas drop where you fill up your tank."
QUIZ TIME
Instead of a weekly quiz this short holiday week, we have a special Thanksgiving food quiz. Bon appétit!
This Thanksgiving staple was invented in the 1950s by a Campbell Soup Company employee named Dorcas Reilly, with the hope of boosting sales of one of Campbell's products.
A. jellied cranberry sauce
B. green bean casserole
C. sweet potato casserole
D. corn pudding
TODAY'S WEATHER
AND FINALLY
How to Carve a Turkey the Jacques Pépin Way